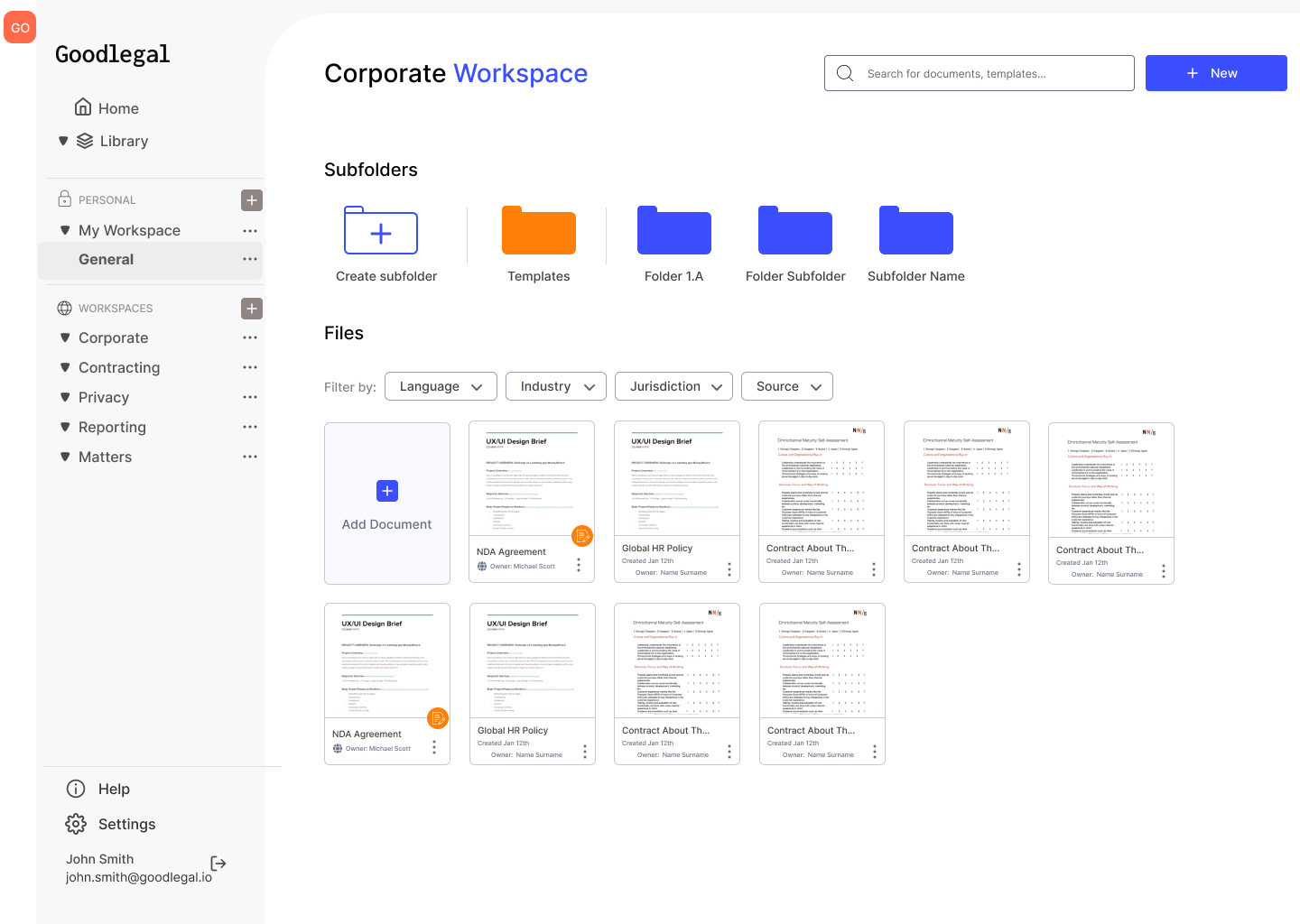 Happy New Year, Goodlegal Community!
I hope you have had a chance to relax and recharge for 2023 and that you also have made among your many resolutions something about your work and how to be happier with it or how to do it more efficiently and digitally.
Thanks for reading Goodlegal! Subscribe for free to receive new posts and support my work.
As you remember from my last post, after the Goodlegal launch, we received a lot of great feedback from you and have already started to work on several improvements. We are planning to deploy them in the next couple of weeks which will hopefully address some of the main comments related to the platform.
One of the improvements we are looking to make in terms of simplifying the way you manage your documents refers to how you can create and navigate between the
Templates (the place where your approved templates of various corporate policies or contracts reside) and

Documents (the place where you keep your signed or ready-to-be-signed documents that originated out of the Templates or from another source external to the platform) sections

to remove any unneeded clicks and actions so that you can easily work on them by always having the ability

to check and see what is the existing company's approved standard.
Below are two design options that we believe will help address the above, but what better way to make sure we choose the right one than to ask the Goodlegal Community directly?!
Therefore, please take a look at the below designs while thinking about:
the way you work with documents,

how you manage them,

how would you like to be able to easily access and compare any document to the company's approved standard template to:

- better understand the deviations or

- what fallback negotiation position can you employ and

let us know either directly at vasile@goodlegal.io or in the comments section below.
Option 1
The first option is great because it allows for a:
quick access to the Templates folder from whatever subfolder you are in so that

you can quickly either double check against the company-approved standard the document you are reviewing or

generate a new document directly from the approved standard to use for your specific situation and

the page's real estate is maximized.
Option 2
The second option is great because it allows for the same:
quick access view similar to version one with the distinction that the

Templates are floating above your existing files.

You can still do the same things as in option one, but the page's real estate is differently utilized.
Why this choice matters:
The above distinctions are important when you think about users with hundreds or thousands of documents stored in the platform, as it may become very burdensome to navigate through those tabs and documents depending on the option we choose.

This is the reason why we believe your feedback can be really important in selecting the option which we will actually implement.

Putting in place an easy-to-use space for the templates and documents an organization is using is very challenging when that same space is also the venue for day-to-day work, not just a simple document repository.
The above design is very important as all users have access from day one to a personal workspace (MyWorkspace) where the work is done, meaning where a template or document is created, and negotiated internally with the team or externally with suppliers, customers, or partners.
The document can be a contract, corporate policy, NDA, employment agreement, etc., which, once finalized and signed, can be published in the Company Workspace, where everyone in the company has access so that compliance is ensured.
MyWorkspace is private, while Company Workspace is internally publicly accessible by anyone in the company. This makes the document management system within Goodlegal the backbone of the platform, where the documents are not just managed and stored but also shared and actionable.
We have a number of important updates to deploy in the following days, including, among others, improvements to the e-signature module, which will have more specific alerts and in-app notifications with action items that might involve you or someone in your team.
It is essential to keep the feedback coming so that Goodlegal becomes your platform of choice for anything legal or document related and you improve in this year the way you work this.
We appreciate that you are a member of the Goodlegal community, and we look forward to receiving your suggestions on the above matter or on any other item which you feel we need to improve.
thank you, and stay legal⚖️